Floaty Animals
A downloadable cute game for Windows and macOS
Control an inflated animal, pump air and steer through an obstacle course to be the first to make it to the goal! Compete in two exciting game modes, Classic and Survival!
Classic mode revolves all around fun bounciness. Immerse yourself in a cute racing adventure with no strict limitations.
In Survival mode, floaty animals will constantly run out of air. Collect heart power-ups in order not to lose your charming bounciness and win the race.
There are 19 playable unique animals and 4 themed stages to compete in. Powerful power-ups will help you find new paths, overtake your opponents and push them out of the way.
After selecting your game mode, press the E button on your keyboard. One press of the button will randomly select an animal for you! If you want to compete against a local friend, they can play in the same way using the P button~
Floaty Animals is an adorable game made in Unity specifically for all animal lovers. It runs on Windows and Mac. Enjoy bouncing!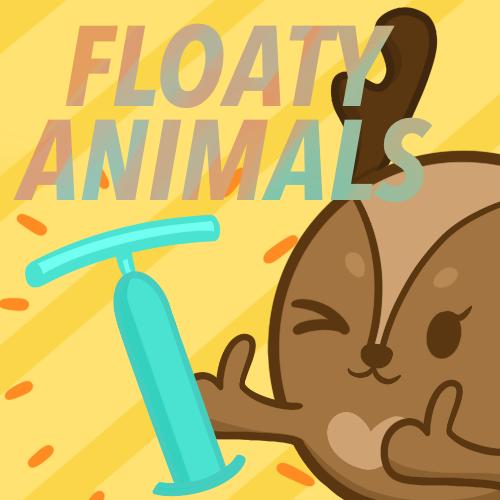 Made by us, team Tangled Web! ~
Liang Zhang - Producer & Management
Kiana Geno Schmoll - Product Owner & Graphics
Jiakun Li - Graphics & QC
Diwei Lyu - Programming & Animation
Daniel Burt - Programming & Animation
Install instructions
Unzip and run to float away!